Is Nvidia RTX 2060 Better than GTX 1070?? Budget Friendly Ray Tracing GPU
Nvidia has announced a new Budget Friendly RTX 2060 GPU at CES 2019. According to Nvidia CEO Jensen Huang, the RTX 2060 will offer higher performance than a 1070 Ti, and 60 percent faster than the GTX 1060. Will It be GTX 1070 killer.
The RTX 2060 is now available. Its Started Selling from January 15th for $349(Around 25,000 INR), with Nvidia making gamers happy by including either a copy of Battlefield V or Anthem.
Nvidia Said The New Turing Architecture offering better optimized performance over the previous generation plus support for new technologies like real-time ray tracing (RT) and deep learning super sampling (DLSS).
Gigabyte Offers 3 Different Series of RTX 2060 ,they are
Gigabyte GeForce RTX 2060 Mini 6GB – $349
Gigabyte GeForce RTX 2060 Windforce 2X OC 6GB – $359
Gigabyte GeForce RTX 2060 Windforce 3X OC 6GB – $379
Nvidia GeForce RTX 2060 Founders Edition 6GB is Also Available Exclusively By Nvidia.
Specifications (Nvidia GeForce RTX 2060 Founders Edition 6GB )
GPU Engine Specs
1920 -NVIDIA CUDA® Cores
37T – RTX-OPS
5 – Giga Rays/s
1680 – Boost Clock (MHz)
1365 – Base Clock (MHz)
Memory Specs:
14Gbps – Memory Speed
6 GB GDDR6 – Standard Memory Config
192-bit – Memory Interface Width
336 GB/s – Memory Bandwidth (GB/sec)
Display Support
7680×4320 – Maximum Digital Resolution
Display Port, HDMI, USB Type-C™, DVI-DL – Standard Display Connectors
4 – Multi Monitor
2.2 – HDCP
Thermal and Power Specs
88 – Maximum GPU Temperature (in C)
160W – Graphics Card Power (W)
500W – Recommended System Power (W)4
8 pin – Supplementary Power Connectors
A Comparison between GTX 1070 , Vega 64 and RTX 2060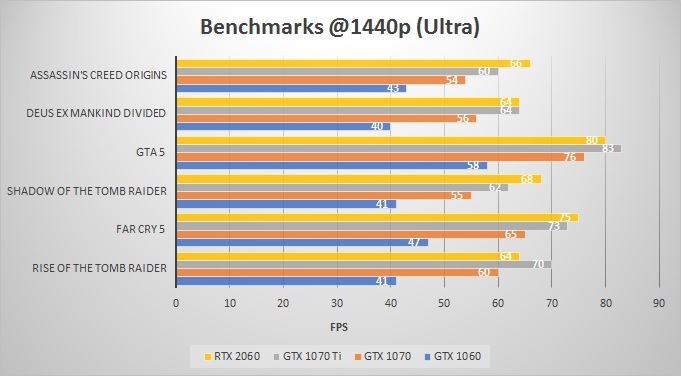 RTX 2060 offers the best value for money amongst the RTX range to date and somewhat redeems NVIDIA from their earlier RTX models (2070, 2080, 2080 Ti) which offered significantly worse value for money. There are still too few games that support RTX to make this feature particularly relevant to buyers, but on average 60+ FPS @ 1440p for most current games at high settings should be achievable. The RTX 2060 can also be overclocked to eke out a bit more performance. In some locations, the RTX 2060 is currently in a similar price bracket to the GTX 1070 Ti which has a 12% greater effective speed and AMD's highly overclockable RX Vega 56 which has an 8% greater effective speed. Both alternatives are H2 2017 GPUs that lack RTX but still continue to offer solid performance and value at todays prices (Source – GPUPro)
All Of This RTX 2060 is availabe in Leading e-Markets in India. Lowest Price Starting with INNO3D GeForce RTX 2060 TWIN X2 for 32,000 INR and highest is ASUS Gaming GeForce ROG STRIX RTX for 58,000 INR.