Is AMD Radeon VII RTX 2080 Killer??? Next Gen 7nm GPU
AMD Announces New High-end Radeon Vega VII GPU on 7nm; RTX 2080 Level Performance AMD just announced the first 7nm gaming GPU and also the company's first high-end GPU in a while at CES. AMD has been lagging behind Nvidia for years in the high-end gaming graphics card race but now the things getting interesting after launching this beast. AMD Radeon VII be released on February 7th.
Specification
Memory
Size – 16 GB
Memory Type – HBM2
Memory Bus – 4096 bit
Bandwidth – 1,024 GB/s
Clock Speeds
GPU Clock – 1450 MHz
Boost Clock – 1800 MHz
Memory Clock – 1000 MHz (2000 MHz effective)
Board Design
Slot Width – Dual-slot
Length – 12 inches ,305 mm
TDP – 295 W
Outputs – 1x HDMI, 3x DisplayPort
Power Connectors – 2x 8-pin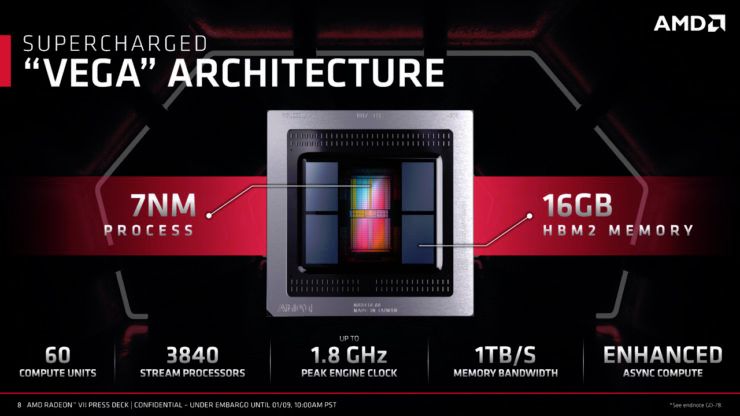 The Price is – 699 USD Means 50,000 INR around but the price might be increased in India after shipping the product. Though the RX Vega 64 OC edition is priced 58,000 INR in MDComputers. This AMD Radeon VII will be a good choice for hardcore pc gamers!!
The AMD Radeon VII Bundled With Division 2 For a Limited Time
Even its not the end AMD Radeon VII bundled with Devil May Cry 5 & Resident Evil 2 Remake

There are some official benchmark comparison with the competitor RTX 2080. Check the image below
Also Comparison between RX VEGA 64 for CONTENT CREATION. Basically in Editing , 3D Making, Animations and many more
AMD also shared some Performance Stats With RX VEGA 64 in DX12, DX11 & Vulcan platforms
And That's All For now folks!! though we little bit disappointed that they didn't talk about NAVI series graphics card in budget Graphic Cards. L:et me know in the comments whats your opinion on this