Best CPU Case Under 3000INR
If you're looking for a Mid Tower CPU Case. Which can support full Atx motherboard without compromising space. Here We are with Best CPU Cases Under 3000 – 4000INR suitable to your budget and desire.
Lets get this started. We Shorted Out Some of the good Cases around this price range from the community.
Ant ESports ICE-200TG
RGB front panel with LED control button
Black glossy finish, Acrylic front panel
Cable management support/separate zone for power supply and other components
Support 2 x HDD and 2 x SSD, 1 x flash card reader/support ATX, MICRO-ATX, MINI-ITX motherboard
I/O Panel : 2 x USB 2.0, 1 x USB 3.0, 1 x audio In, 1 x mic, flash card reader
Fan support : front 120 mm x 3 (optional)/top 120 mm x 2 (optional)/ rear auto rgb 120 mm x 1 (preinstalled)
Liquid cooling support (maximum): front 120 / 240 mm , rear 120 mm
Pros– Comes with a magnetic dust filter on top of the case & a pre-installed rgb fan. Surprisingly with a sd card reader with this price range. Dont forget it also have a PSU shroud in it.
Cons – Not Aluminium Screw on tempered glass , something like plastic
Price – 2649 INR
Thermaltake Versa N23
Cabinet Max Fan Support – 5
Cabinet Type – Mid Tower
2.5 Inch Bays – 4
Cabinet 5.25 Inch Bays – 2
Side Panel – Transparent
CPU 3.5 Inch Bays – 4
Cabinet Expansion Slots – 7
CABINET MAX RADIATOR SUPPORT – 240
Pros – Pre-installed with a 120mm fan. It comes also with a mesh front panel so this will bring this case a very good air flow and ventilation.
Cons – The front panel comes with a plastic build.
Price – 2975
Corsair Spec-05
Maximum GPU Length 370mm, PSU Length 180mm, CPU Cooler Height 150mm
Case Expansion Slots 7
Drive Bays (x2) 3.5in (x3) 2.5in
Form Factor Mid-Tower
Case Warranty Two years
Case Material Steel
Radiator Compatibility 120mm, 140mm, 240mm
Case Drive Bays 3.5″ 2
Case Drive Bays 2.5″ 3
Pros – Comes with 1 pre-installed fan. Fan Filter on bottom of the chasis
Cons – No PSU Shroud, Acrylic panel (attracts more dust than tempered glass)
Price – 2800 INR
Antec GX 202
Materials SPCC + plastic, transparent side panel window
Mainboard support ATX / Micro-ATX / ITX
Front I/O ports : USB3.0 x 2, mic/audio, power, reset
Fan support : 2 x 120mm front, 1 x 120mm rear preinstalled fan : 3 x 120mm fan (2 x white LED fans in front and 1 x regular fan in rear)
Dimensions : 450(D) x 205(W) x 435(H)mm
Pros – 2 Pre-installed Blue LED fan 1 Non LED 120MM Fan , DVD/CD Writer bay available
Cons – Closed Top, Acrylic Panel , No PSU Shroud. Very cramped space for cable management.
Price – 2999 INR
Gigabyte C200 Glass Case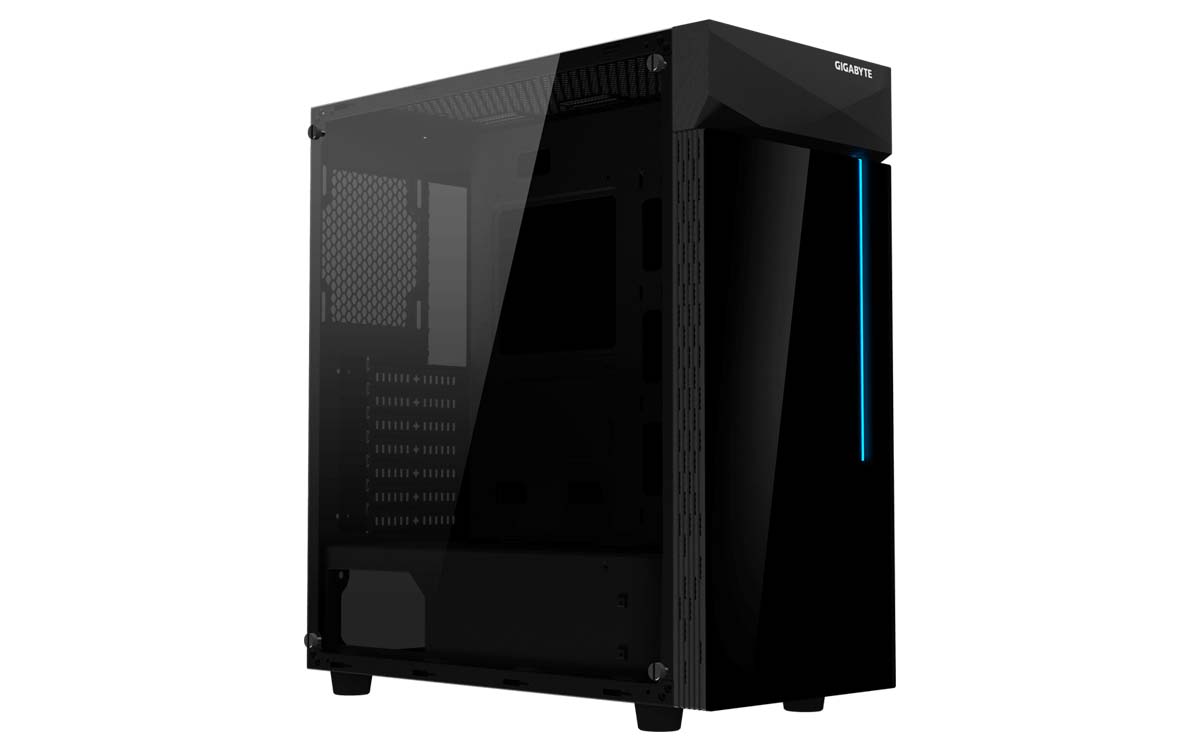 Supported all mini-ITX, m-ATX, ATX
Drive Bays – 3.5 x2, 2.5 x2
Fan Support – Top x2, Front x3/x2(140mm)
Radiator Support – Rear : 120mmx1Top : 120mm x2 / 240mm x1 Front : 120mm x2 / 140mm x2 / 240mm x1 / 280mm x1
1 Year Warranty 
Pros – Comes with a rgb light and rgb switch on the front tempered glass. 1 pre-installed fan. 
Cons – Gigabyte C200 is good but not a great case, blocked off front panel for an aesthetically pleasing design, sure but it leads to poor airflow, and consequently thermal throttling of your components.
Price – 3300 INR
Thats All For Today Let Me Know in the comments if you have anything in mind regarding this.