60 FPS On PUBG !!! Gaming Budget PC Build Under 35000 INR (35k)
Most of You wondering 60 FPS On PUBG at this price segment possible ?? My answer is Yes!!! Possible in this Budget PC. Just Follow the Article You Will Get What You Wanted.
Many guys out there wanted to buy a budget pc to entertain themselves by playing popular games which they are seeing in streams. So here we are helping you to build a Entry level low range Gaming PC which can run easily popular games in very low to medium settings. In My Experience 30 fps mark is the parameter to play any game at ease. (FPS charts of some renowned games included).
So lets Start!!
1. CPU – INTEL® PENTIUM® G4560 DESKTOP PROCESSOR DUAL CORE
2 Cores & 4 Threads
3.5 GHz Clock Speed
LGA 1151 Socket
3MB Cache Memory
Intel HD Graphics 610
DDR4-2400/2133 & DDR3L 1600/1333 Memory
SSE 4.1/4.2 Extensions
7th Generation (Kaby Lake)
Includes CPU Cooler
>>Price= 6500
The Pentium G4560 is the budget Gaming CPU right now and the only Intel CPU worth buying. It is a dual core CPU but has hyper threading and is almost equivalent to an i3 in performance. It can handle most AAA games in high settings paired with a decent GPU like Rx 560 or 1050ti for this Gaming PC Build.
2. MOTHERBOARD – GIGABYTE h110m s2
Supports 7th / 6th Generation Intel® Core™ Processors
Dual Channel DDR4, 2 DIMMs
Audio Noise Guard with High Quality Audio Capacitors
Realtek® GbE LAN with cFosSpeed Internet Accelerator Software
All new GIGABYTE™ APP Center, simple and easy use
Support Intel® Small Business Basics
>>PRICE – 4150 INR
The Most Dependable & efficient motherboard for this Gaming PC Build is Gigabyte h110m-s2. Known For Its Tough Build and Ability to produce same output at constant level.
3. MEMORY – Corsair Lpx Series 8gb 2400Mhz
Memory Size: 8GB Kit (1 x 8GB)
Tested Latency: 14-16-16-31
Tested Voltage: 1.2V
Speed: 2400MHz
Heat Spreader: Anodized Aluminum
Package Memory Format: DIMM
Performance Profile: XMP 2.0
With lifetime warranty
>>PRICE – 5400 INR
4. Storage – Seagate 1TB Barracuda 7200 RPM
7200 RPM spindle speed.
High instantaneous (burst) data-transfer rates (up to 600MB per second).
Warranty: 2 Years
>>PRICE – 3200 INR
5. Graphic Card – GT 1030 2GB GDDR5
CUDA Core : 384
Memory Clock : 6.0 Ghz
Memory Bus Width : 64-bit ;
Bandwidth :48 GB/s
DirectX12.0 ;Vulkan1.0; OpenGL4.5 ;OpenCL1.2 ; Shader Model5.0
>>PRICE – 6800 INR
Now The Main Thing GT 1030 is a very low level gaming GPU Who can able to run Pre 2017 games easily on 40+ FPS at Medium Settings. We Tested PUBG and its giving us 35 – 43 FPS Constantly. In Very Low it Goes 54 – 67 FPS.
** Now the most important part I really recommend you to buy a second hand RX 550 4GB or 1050 ti 4GB from OLX or Quikr. Believe Me it will be really worth your money and gaming experience able to give you a smooth 60+ FPS on every game( Specially in Med Settings in PUBG able to give you 58 to 65 FPS Constant) and the cards will cost you around 8k to 5k. Its Purely Depended on you how well you can negotiate with the buyer.(IMP:- Test the Card Before Buying & If it have warranty left then its good to go.) Im Showing a Screenshot of OLX in My Area that they are selling rx 550 and GTX 1050 ti.
6. PSU- Corsair VS450
A dedicated single +12V rail offers maximum compatibility with the latest components
Active Power Factor Correction (PFC) with PF value of 0.99
AC input from 200~240VAV
Over-voltage, under-voltage, over-current, and short circuit protection provide maximum safety for your critical system components
>>Price- 2500 INR
The power supply Corsair vs450 will be a good choice i'm taking this only because of the future upgrade of this Gaming Budget PC Build,you can go with 400 watt PSU to save some bucks.
7. Case- Deepcool Tesseract Bf Case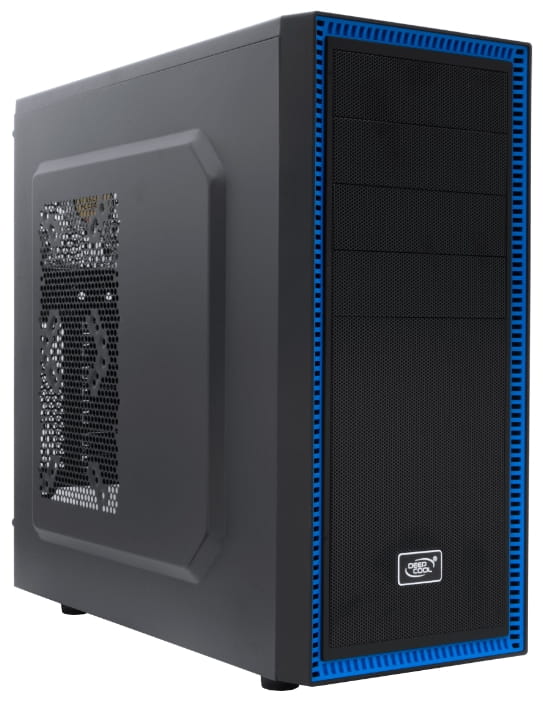 >>PRICE – 4000 INR
This Case Will Be Perfect fit. If you wanna go some low range Cases then you can see some Circle 800 series or Cooler Master Cases. Whatever You Choose , Choose Wisely by seeing the Airflow outlets.
Remember I excluded the dvd writer u can include that one with your Budget PC but make sure the cabinet should have a CD/DVD driver bus. That Will Cost around 1k for ASUS.
FPS CHART For Both 1030 2GB & 1050 ti GB
Check Out the other components like mouse, printer, speaker, graphic cards, monitors in other posts. I made a total list of best of this components with every price level.
<<Happy Computing|Thank You>>